According to official data released through Wednesday, Asia's five biggest economies -- China, Japan, India, Indonesia and South Korea -- showed exports falling from a year ago in June.
Other major economies such as Thailand and Singapore experienced a similar trend. The news follows China reporting a three-decade low GDP growth of 6.2% in the April-June quarter.
The situation continues to worsen, with the current export slump as serious as in 2015, when China's economy was hit by falling stocks.
On May 10, the U.S. raised tariffs on $200 billion worth of Chinese imports from 10% to 25%, with the June figures reflecting the effects on trade.
China's exports marked a 1.3% drop in June compared with a 1.1% rise in May.
"The slump of Asia's exports is a combined result of cyclical slowdown in global demand and rising trade tariffs," Margaret Yang, an analyst at CMC Markets in Singapore, told the Nikkei Asian Review.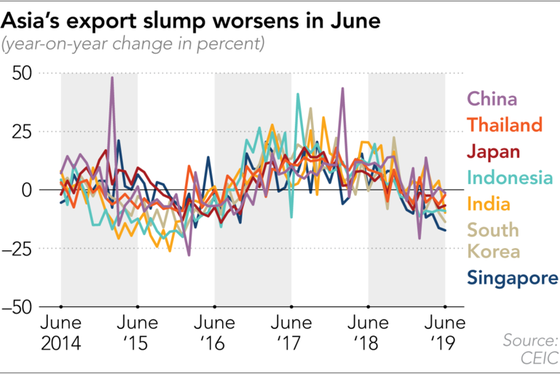 "The 25% tariff on $200 billion of Chinese exports has not only hurt China's exports, but also inhibit China's imports," she said. "As China is the largest trading partner with many Asian economies, the U.S. tariffs are having a ripple effect on trade in the region."
Semiconductors and related devices are being hit especially hard. In Singapore, exports of integrated circuits fell 33% in June from a year ago as non-oil exports contracted to a six-year low of minus 17%.
Singapore is one of Asia's semiconductor export hubs along with Taiwan and South Korea, home to about 50 to 60 manufacturers, according to Ang Wee Seng, executive director of the Singapore Semiconductor Industry Association.
"The trade war affects the supply chain," Ang told Nikkei on Tuesday. "So if one supply for a particular system is off, everything else in the system will drop."
Semiconductor products made in Singapore are shipped mainly to the U.S. and China.
Japan's exports fell 7% in June, marking their seventh consecutive monthly drop. Exports to China declined 10%. According to Japan's finance ministry, exports of semiconductor manufacturing equipment to China suffered the most.
In Thailand -- a hub for automakers and electronics manufacturers -- exports to China in June plunged 15% from a year ago, following the previous month's 7% decline. Total exports dipped 2% for the month.
Pimchanok Vonkorpon, director-general of Thailand's Trade Policy and Strategy Office, said the fall in June was clearly the result of the trade war. "The impact from the trade war is expected to stay in effect until the third quarter," she said.
Chinese end-product assemblers likely cut down production on fears of slowing U.S. demand. This weighed on Thai product manufacturers connected to assemblers and other Chinese trade partners.
The strong baht -- currently at about 30.9 to the U.S. dollar -- also hindered Thai exports. Ghanyapad Tantipipatpong, chairwoman of the Thai National Shippers' Council, said exporters want the baht in the 32 to 33 range, and urged that measures be taken to halt the baht's appreciation.
India saw a exports decrease 10% in June, from a rise of 4% the previous month. Although less exposed to Chinese supply chains than other countries, the slowdown appeared due to lower crude oil prices. The manufacturing sector also fell as labor-intensive sectors such as textiles sharply contracted, according to a report from Nomura, suggesting that slowing global demand is starting to cause a negative impact to the country.
Meanwhile, Vietnam bucked the trend in June with exports jumping 8% as the country leveraged its position as a key relay point for goods flowing into China.
Vietnam and some other Southeast Asian countries stand to benefit if manufacturers continue their exodus from China, but the effects may be too early to gauge. In addition, the South China Morning Post reported on July 12 that some Chinese manufacturers are starting to move back home due to rising costs and the difficulty of finding skilled workers.
Malaysia and the Philippines have yet to release June data.
Some analysts see exports around the region continuing to fall over the next few months, but picking up after that. "As the global economy cools, major central banks are ready to cut interest rates and carry out more stimulus to boost growth. As a result, growth may start to pick up as soon as the fourth quarter of 2019 or early next year," said Yang of CMC Markets.
"A cyclical recovery of trade will depend on U.S.-China trade talks and the launch of 5G in the U.S., Europe and Asia," she said. "The later will likely boost global demand for semiconductors, electronics and communication equipment."
But a recent report from Capital Economics painted a slightly bleaker picture: "We don't expect global growth to bottom out until next year ... Our base case remains that trade talks will break down again before long. Meanwhile, a renewed slowdown in [China's] domestic demand looks set to weigh on import volumes for the remainder of the year."