Novaland Expo 2019 is the occasion for Novaland Group to update its development strategy for the period of 2019 – 2023 to its partners, investors, domestic and foreign customers. Accordingly, from 2019, "Creating community - Building a destination - Cultivating joy" is the mission of all members of Novaland Group.
Novaland's vision has also changes in the direction of synchronous development and mutual support: "Novaland is a leading economic group in the fields of real estate - finance - tourism - infrastructure development".
In the near future, Novaland continues to develop real estate in addition to developing tourism and infrastructure to support real estate. In the distant future, Novaland will access financial investment and develop financial types.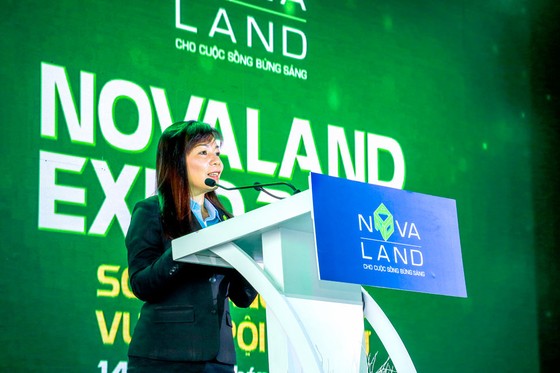 Ms. Hoang Thi Thu Chau. Representative of Novaland Group, gave a speech at the Expo 2019 opening ceremony
The exhibition space at Novaland Expo 2019 will also clearly convey the key product lines that Novaland focuses on developing in the next period, including: real estate in the center; real estate in satellite urban areas; and entertainment resorts in localities with convenient transportation connections and high tourism potentials.
Follow the event line, along with information about the new project, seminar on "Vacation real estate market - What opportunities for second home?" took place on Saturday morning, June 15 at Novaland Expo 2019 as well. The seminar will bring useful information about second home investment trend as well as legal issues related to real estate market in Vietnam.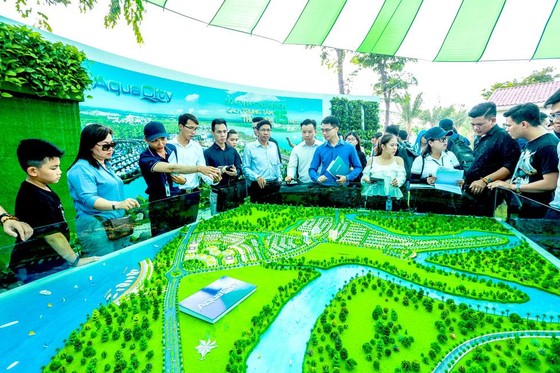 Visitors looked at the Aqua City model - The first project developed with Eco-urban model in the real estate chain of Novaland satellite urban area.
At the event, visitors had the opportunity to receive thousands of valuable gifts and could takepart in many attractive sideline activities such as street prom, mini golf practice, children's play area...

Some typical projects at Novaland Expo 2019
The Grand Manhanttan is a luxury service-trading apartment complex located on the front of Co Giang and Co Bac streets in the center of District 1. The project is fully converged with superior facilities, such as: green area more than 4,000m2, 2 swimming pools, children's playground and BBQ, shopping and high-end entertainment area... At the exhibition, The Grand Manhattan presented new Riverview towers.
Aqua City is the first project to be developed with Eco-urban model in Novaland satellite urban area. The ecological city of Aqua City will be oriented to synchronous urban areas, complete and pursue the "green buildings" standards for planning, architecture and environment... Located in Bien Hoa, Dong Nai, at the eastern gate of Ho Chi Minh City with an area of up to 121 hectares, Aqua City includes a complex of town houses, single villas, duplex villas, shophouses and a series of modern internal utilities such as a commercial center and schools, recreation and sport areas...
NovaWorld Phan Thiet entertainment resort complex has an area of nearly 1,000ha. It integrates a variety of world-class recreational-sport facilities and resort. At the exhibition, NovaWorld Phan Thiet presnted second home products and shophouses with a unique design. All of them have a view of the sea and a land area of 100-240m2.
NovaWorld Ho Tram entertainment resort complex is about 1.5 hours by road from Ho Chi Minh City, easily connected to Long Thanh airport. NovaWorld Ho Tram project has a scale of about 1,000ha, divided into 10 stages of development. Phase 1 is nearly 100 ha, with second home products in tropical style with facilities for recreation and entertainment such as restaurants, hotels, resorts, water parks, saltwater pools (connected directly sea), kayaking area...
Details at: www.novaland.com.vn; Hotline: 1900 63 6666 (ext 6).