Most major Asian currencies and stock indexes gained in the first half of 2019 despite the U.S.-China trade war and elections across the region, with the Thai baht leading its peers in performance.
In equity markets, the Shanghai Stock Exchange Composite Index climbed the most among Asian benchmarks.
The baht appreciated more than 5% against the U.S. dollar in the first half, supported mainly by the opposing monetary policies of the Thai and American central banks.
The Bank of Thailand hiked its benchmark policy rate in December 2018, and remained hawkish until the beginning of this year. It has since shifted to a neutral stance, but remains far from easing.
U.S. Federal Reserve Chair Jerome Powell, on the other hand, said the case for a Fed rate cut has strengthened given the economic "crosscurrents." The Fed's dovish policy turn emboldened risk-on sentiment in financial markets, and contributed to gains in Asian assets.
Thailand's export- and tourism-driven economy generates a large current-account surplus, which also exerts upward pressure on its currency.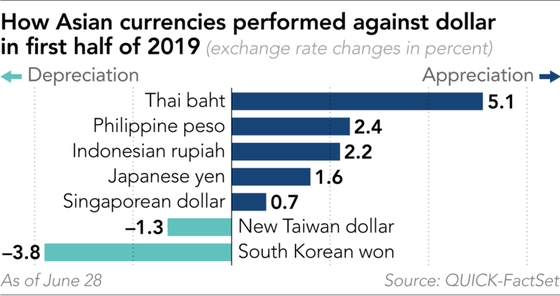 "Although Thailand was not on the U.S. currency watch list, it still faces a risk of being included in the future," said Teppei Ino, senior analyst at Japan's MUFG Bank. "This rules out explicit currency interventions for Thailand as a measure to stop baht appreciation, and investors are taking advantage of that."
A 1988 law requires the U.S. Treasury Department to report to Congress every six months on whether countries are manipulating their currencies to gain trade advantages. Being placed on the watch list moves a country a step closer to being deemed a currency manipulator -- a designation that could result in U.S. trade sanctions.
The Philippine peso, the Indonesian rupiah and the Indian rupee were also gainers in the first half. The mostly trouble-free elections in each of these countries helped the currencies appreciate.
Among decliners, the South Korean won fell by over 3% against the dollar owing to the country's economic slowdown. The U.S.-China trade war has shaken the South Korean semiconductor industry, which includes suppliers of Chinese telecom equipment giant Huawei Technologies.
The benchmark spot price of dynamic random access memory chips, used in computers and smartphones, fell 38% to $1.87 per unit from Jan. 2.
In equities, the Shanghai benchmark index rose about 20% over six months. The index enjoyed its best quarter since 2014 from January to March, helped by Beijing's economic stimulus measures, including a planned 2 trillion yuan ($300 billion) cut in taxes and fees. The rise quickly lost steam, however, when trade tensions between the U.S. and China flared up again.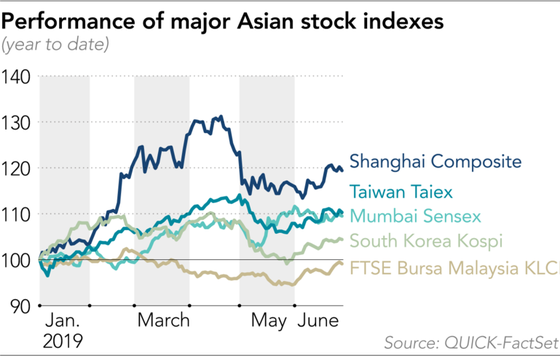 Although U.S. President Donald Trump and Chinese President Xi Jinping agreed at last week's Group of 20 summit to freeze additional tariff increases during trade negotiations, the outcome remains uncertain.
"Restarting trade talks does not mean that the U.S. and China will reach a deal any time soon. Negotiations will continue to be difficult, given the tough stance that the two sides would likely assume," wrote Oxford Economics in a note. This puts the Chinese stock market in a precarious situation.
Malaysia's benchmark Kuala Lumpur Composite Index fell 1% during the first half of this year, becoming one of the worst-performing major markets in the region. The country's weak exports and factory output, together with a relatively high ratio of government debt to gross domestic product and a tight fiscal policy, dented investors' confidence in Malaysian stocks.
Among stocks in the Nikkei Asia300, which tracks major Asian listed companies outside of Japan, Thai beverage group Ichitan performed the best with a gain of more than 120%. The producer of green tea and herbal drinks rose on better operating performance, supported by cuts to marketing costs and higher sales.
Exceptionally hot weather across Asia may have fueled buying in other beverage shares as well. China's Tsingtao Brewery ranked fifth in the gainers' list. Philippine food and beverage group Universal Robina, China Resources Beer and Thai Beverage also performed well in the first half.
Notable declines were seen in some Indian Asia300 stocks. Mobile operator Vodafone Idea, earlier known as Idea Cellular, was plagued earlier this year with service quality problems, in addition to a steep drop in subscriber numbers. Its shares have fallen more than 45% year to date. Shares of media company Zee Entertainment fell over 27%.
The ongoing trade war and tensions in the Middle East have also moved the commodity markets.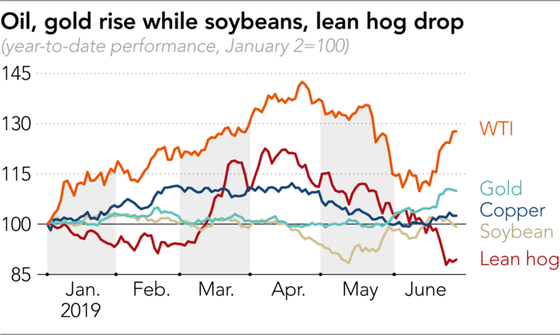 Oil prices gained the most among the commodities tracked by Nikkei. U.S. West Texas Intermediate crude futures rose 28% to $59 per barrel from Jan. 2 amid tensions in the Middle East. While output cuts by OPEC have continued, the recent tanker attacks near the Strait of Hormuz fueled a surge in oil prices.
COMEX Gold futures rose 10% to $1,412, hitting a six-year high. Amid uncertainty over tensions between the U.S. and China, more investors seek safe-haven assets like gold.
"As China-U.S. tensions are likely to persist, commodities that are subject to Chinese demand such as copper and soybeans will remain under pressure," said Tatsufumi Okoshi, senior economist at Nomura Securities. "The market has still not overcome concerns over the slowdown in Chinese economy."