Governments and businesses in Asia's emerging economies are trying to reduce plastic pollution in an effort to burnish their green credentials before the international community, not the least its global investors.
The issue came up at the Group of 20 summit in Osaka, where global leaders agreed that marine plastic waste is a serious issue and pledged to take "concrete" steps to tackle the problem. President Joko Widodo of Indonesia -- the only Southeast Asian G-20 member -- had said he wanted to bring up the mounting plastic problem at the meet.
Plastic pollution, especially the marine variety, has become a serious issue in the region, crippling fisheries, tourism and other sectors.
The Asia-Pacific region accounts for 60% of improperly disposed of plastic waste, or mismanaged waste, according to data from nonprofit research organization Our World in Data. This type of waste has a high possibility of entering the ocean through rivers or other waterways.
To tackle plastic pollution, Thailand approved a road map in April for reducing scrap plastic that runs through 2030. As part of the initiative, the government wants to ban by 2020 plastic straws and cups as well as plastic shopping bags thinner than 35 microns, which includes most bags used by supermarkets, vendors and other retailers.
The bans will be introduced in stages, with the country aiming for complete plastic recycling by 2027. A government spokesperson said the measures will help reduce the 780,000 tons of scrap plastic it produces annually and also decrease money spent on waste disposal.
Indonesia will implement a trial ban on plastic bags in Bali from July prior to full-scale implementation in other parts of the country later this year. In Vietnam, Prime Minister Nguyen Xuan Phuc has requested businesses to reduce plastic waste, while the Philippine Congress has started discussing bills to ban plastic straws and shopping bags.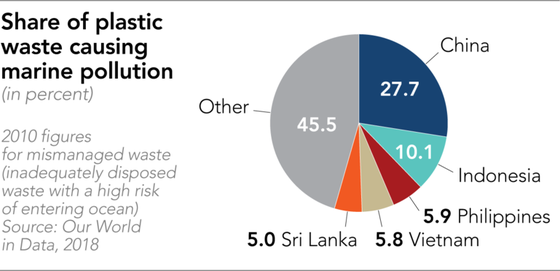 The region's private sector is also gradually joining the global drive toward stronger environmental protections, including recognition of the United Nations' Sustainable Development Goals.
Indonesia's Asia Pulp and Paper has developed paper for use in making specially coated biodegradable containers such as cups. The company plans to make the material commercially available in 2020.
Meanwhile, Malaysia's Top Glove, the world's largest glove maker, plans to release biodegradable rubber gloves later this year. Executive Chairman Tan Sri Lim Wee Chai said the company wants to replace all its products with biodegradables over the next 10 years.
Plastic is widely used for making food containers because it is easy to process and hygienic. Since 1950, 8.3 billion tons of these containers have been produced, 60% of which has ended up in landfills or the sea, according to data from the United Nations.
China, a major emitter of plastic waste, is asking industries to come up with solutions. The government banned the practice of giving customers plastic shopping bags for free in 2008,but use of plastic has been growing in recent years due to the expansion of online shopping.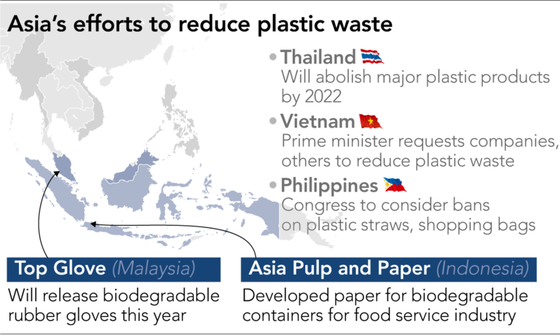 The problem of scrap plastic is growing more acute in the region after China banned its import in 2017 as the country grapples with its own mountains of garbage.
Asia's emerging economies have prioritized economic growth ahead of sound environmental policy. But they are beginning to reverse course as they realize the negative impact this direction has on people and the economy.
There is also concern that failure to address pollution -- plastic or otherwise -- could discourage foreign investors, who increasingly examine environment, social and governance criteria, known as ESG, before investing money.