Although electricity prices increased by 8%, its impact on inflation was not much as it was a one-time increase and the proportion of electricity in basket of products to calculate inflation is small.
The petroleum price in the world market has been reducing to USD 40/barrel after reaching USD 60/barrel at the beginning of the year.
The price of foods has also been decreasing after escalating at the beginning of the year, due to impact of African fever virus. The increase in imports to meet the domestic demand also helped to reduce the price pressure.
The foreign exchange rate has been under control and was also the reason for the stability of inflation in 6M/2019.
Looking forward, the market continues to expect the oil price to remain stable this year and next year as the world economy growth is forecast to slowdown in 2019, which causes lower demand for oil. The plentiful supply of US shale oil will also help keep the oil price below USD 60-70/barrel. Most shale oil producers can make profit at this price level.
The only risk for oil price now is the current political situation in the Middle East. However, since the last time, the oil price has not been so volatile through the period of dispute between US and Iran. President Donald Trump has been trying to avoid use of armed force to intervene in the global market as oil price increase will not be good for the US economy.
In coming times, the USD/VND exchange rate is expected to be stable thanks to the consistency of FDI flow and the cooling down of US-China trade war. The government also prefers to keep the exchange rate stable to attract more investments and to avoid falling on the US list of countries involved in currency manipulation.
This year, the government will continue adjusting the price of healthcare services and education, however, the magnitude of these adjustments is small. Hence, these changes will not impact inflation much.
Based on above factors, the headline inflation is expected to stay around the core inflation (blue line in graph). Although the core inflation has been increasing since the beginning of the year as per growth of the economy, it has been consistently below 2% over the last 3 years (black line in graph) given the effectiveness of the money policy.
This trend is expected to remain for next 1-2 years and the average inflation rate is forecast to be about 2.5% this year.
Inflation from 1/2016 to 6/2019 and the forecast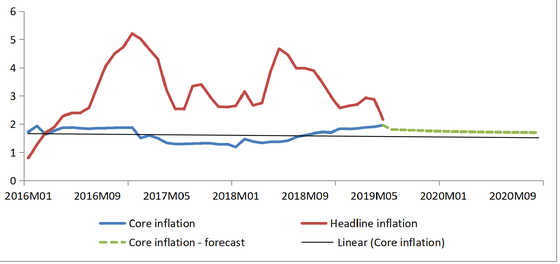 Source: General Statistics Office of Vietnam