Amid rising global security concerns over China's high-tech companies, state-owned China Telecom is the largest stakeholder in Mislatel, the Philippines' third telecommunications carrier that is set to receive its operating license on July 8.
"We will be the one monitoring them," acting Information and Communications Technology Secretary Elisio Rio told the Nikkei Asian Review on Tuesday. "They should make sure that they will not be a threat to our national security or else they will lose their license."
Due to begin operations next year, Mislatel will be the first telecommunications network to be monitored by the state platform known as the Cybersecurity Management System.
"You can monitor if there is an unauthorized data breach that came in or out of their network," said Rio, a retired electronics engineer and Philippines military officer who also served in the National Security Adviser's office.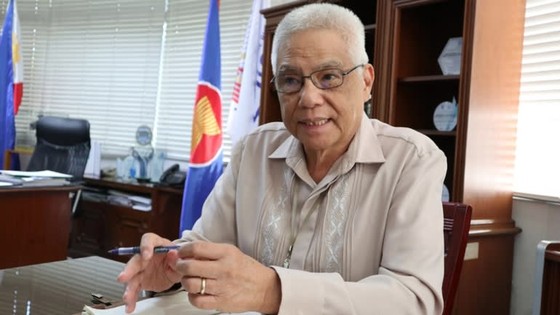 Elisio Rio, acting secretary of the Department of Information and Communications Technology in the Philippines. (Photo by Cliff Venzon)
Jointly developed by U.S.-based Verint Systems and a local IT company to monitor cybersecurity threats against key Philippine government agencies, the Cybersecurity Management System will oversee Mislatel's activities in accordance with data privacy rules, as well as process suspicious behavior including unusual data traffic from certain IP addresses.
"For now it's only Mislatel because it's the new entrant," Allan Cabanlong, assistant secretary for cybersecurity at the Department of Information and Communication Technology, told Nikkei. He said the agency was still working with Mislatel on the final details of how the monitoring system will work. "In the future, all telcos must connect to the cybersecurity system," he said.
China Telecom holds a 40% stake in Mislatel, the maximum allowed a foreign company in the Philippine telecom sector. Local partners Udenna and Chelsea Logistics, which hold stakes of 35% and 25% respectively, are controlled by Davao-based tycoon Dennis Uy, a key campaign donor to President Rodrigo Duterte.
"We will abide by all government requirements and we have submitted our cybersecurity plan to the government to ensure that we protect the public from cybersecurity threats," said Adel Tamano, a spokesman for Mislatel.
Since becoming president in 2016, Duterte has sought to defuse tensions with Beijing over the two countries rival territorial claims in the South China Sea, at the same time distancing Manila from the U.S., the Philippines only formal treaty ally. The foreign policy reset has resulted in billions of dollars worth of Chinese investment in the Philippines.
In 2017, Duterte invited China to invest in the Philippines telecommunications sector, in a challenge to the longtime duopoly of PLDTand Globe Telecom.
After Beijing endorsed China Telecom's involvement, Mislatel won the license auction last November, promising to spend around $5 billion in five years to offer a "world class" service.
With security concerns surrounding China Telecom's entry to the Philippines amplified by U.S. warnings over Chinese telecommunications equipment supplier Huawei, Mislatel was nevertheless cleared by both houses of Congress.
In 2014, with tensions running high between Beijing and Manila over the South China Sea, then President Benigno Aquino ordered Globe Telecom and PLDT to hire a third-party to audit their networks after they were overhauled using Huawei equipment.
The companies have since built their own internal cybersecurity audit systems, which reports any breaches to state regulators, Rio said.
"Until now there are no security threats coming from them even if most of their equipment is Huawei," said Rio.
Under Duterte, the Philippines has welcomed Chinese investment in its telecommunications infrastructure, despite Washington's warning that using Huawei equipment risks complicating ties with the U.S.
Rio said the Philippines will not exclude Huawei from the country's telecommunications network. "We will let market forces decide," he said.
On Thursday, Globe Telecom launched its pilot 5G internet service for households using Huawei equipment. PLDT has said it will also likely use Huawei equipment for its 5G service to be launched later this year.
"We cannot afford to remove Huawei product from our network, our industry will fold up if we force them to do that," Rio said, adding that 80% of Globe and PLDT's networks use Huawei equipment.
Other Chinese companies looking to invest in the Philippines' telecom sector include China Energy Equipment, China Construction First Group, and China Construction Yangtze River SDN, which have all expressed interest in build telecom towers that service providers could lease and share to speed up the expansion of local services.
"The U.S. is warning that we should be wary of Chinese products," Rio said. "But also we have to balance it with our national interest."
"Chinese products are performing well, they are relatively less expensive than the other equipment, so why should we deprive our industry or our companies of it when it will redound to the good of our people," Rio said.