JOURNALIST: - What is the ownership of Nutifood in this project?
Mr. TRAN THANH HAI: - This event was scheduled to coincide with the official visit of Prime Minister Nguyen Xuan Phuc and his high-level delegation to Sweden, on the invitation of Sweden's Prime Minister Stefan Löfven, to mark the 50th anniversary of establishing diplomatic relations between Vietnam and Sweden. Nutifood is the first milk company of Vietnam investing in Sweden and to be invited to this event.
NutiFood Sweden AB will have 50 percent investment by NutiFood, while Backahill and Skånemejerier Ekonomisk Förening will cover 25 percent each.
Investment in Sweden has many advantages because of land and other material resources. However, there are also challenges to face such as high quality standards and higher labor cost - said Tran Thanh Hai.
In the first phase investment of US 20mn, NutiFood Sweden AB will have 5,000-ton capacity per year, to produce 5,000 tons of infant formula milk and 10,000 tons of baby food. The project will be managed by a professional team which has come from several well established international milk and food corporations. The factory will also produce organic products made of goat milk, such as infant formula milk, soup and baby food.
The second phase of the project will produce organic pasteurized milk and organic powder milk, for distribution not only in Europe and Asia, but also other markets in the world. A product line of this plant will also be distributed in the Vietnamese market by Q3/2019.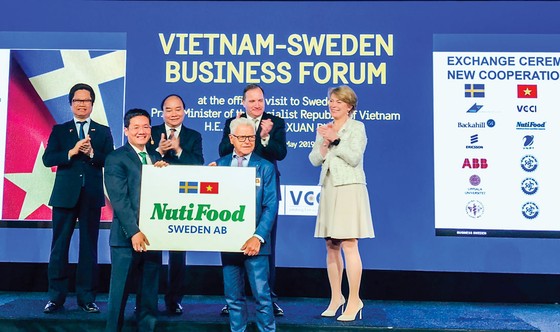 Mr. Tran Thanh Hai and billionaire Erik Paulsson at the cooperation agreement award ceremony, in the presence of Prime Minister Nguyen Xuan Phuc and Sweden's Prime Minister Stefan Löfven.
This is an old constructed plant that we bought out and will operate. However, products which are produced here must follow very high standard rules. NutiFood Sweden AB is located in Bjuv, in the South of Sweden, which is the best agricultural area in the North of Europe and covered by about 2,500 organic farms.
Sweden is one of three leading countries for high quality milk, besides Norway and Iceland, which restricts use of antibiotics in breeding of cows. Sweden is also a blissful place with fresh air and clean healthy food grown in natural green grass fields. The drinking water for cows is also pure. People can drink the water directly without processing.
Billionaire Erik Paulsson said that he was impressed by NutiFood. It got the FDA certificate of US to bring milk products to US markets. Besides, the strong financial status of NutiFood is also a reason for us to cooperate with this company.
- Is the cooperation with billionaire Erik Paulsson part of karma or a strategy of NutiFood?
- It is our strategy. However, from strategy to karma is a long process. Both parties have to appraise the ability, the business strategy and core value of the other. If two parties are suitable for each other, the deal will be made. The return of investments in developed countries like US, Sweden, Japan is lower than developing countries like Vietnam. However, I have been so impressed by the way people here raise their children. In this country, children are number one, hence, milk and nutrition for kids must be the best too. I admire the value that Swedes set aside for their future generations.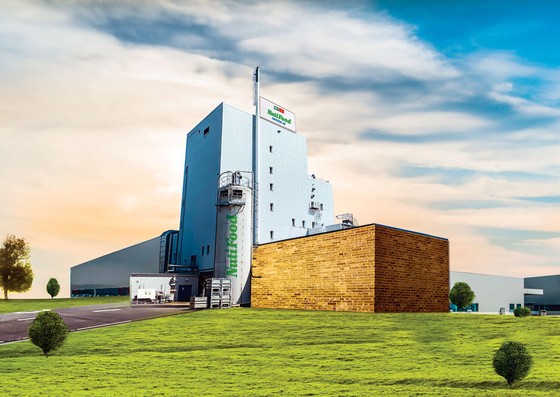 NutiFood Sweden AB dairy plant.
Being a corporation that will bring kids healthy and wonderful products like in Sweden is our reason to invest here. NutiFood wants to multiply this value all over the world. NutiFood is proud to be the first Vietnamese company investing in Sweden. In the process to reach the world market, we are successful in the US market.
Sweden is our footprint to gain market share in Europe as Sweden is the leading country for high quality and organic products, especially milk. We wish that the product of the joint venture will reach all markets in the world. NutiFood is committed to putting in best efforts to prove Vietnamese ability and contribute to the relationship of the two countries.

- In the long term strategy, which is the core market of NutiFood?

- We have just been expanding to foreign markets for a few years. However, domestic market is still our core. Vietnam has a golden population, with 100mn people. The average consumption of milk is still very low, the demand for healthy food is increasing. Many children in rural and highland areas suffer from malnutrition.
Several incorrect habits and perceptions about milk remain. There are many things that the doctors of NutiFood have to do and think about. We are doing a study to build a special milk product for malnutrition kids. We also kicked off a campaign "Journey for Vietnam to escape malnutrition and stunting".

Everything is ready to bring the various milk products with a Vietnamese brand name but Swedish quality to the world. However, the first market of first products of NutiFood Sweden AB will be Vietnam. Surely many people will be surprised to hear that. We constructed the plant in Europe, we have the customer network in the world, we dream to bring Vietnamese brand name to global markets for a long time, why now we do not sell these products in foreign countries first? However, it is our logic and we believe it is reasonable.

- Thank you very much.