The sky looked forlorn on a cold February morning outside Industria, a redbrick building in the heart of the West Village neighborhood of Manhattan. But inside, models wearing the hijab sashayed down the runway in outfits with splashes of bright pink and black created by Indonesian designer Dian Pelangi, on day two of New York Fashion Week.
Pelangi, who has been selling her modest outfits to customers in the Middle East for several years, was enjoying her second showing at NYFW since 2017. Participation in the events has won her a growing number of buyers in the Western Hemisphere. "There have been many more orders," Pelangi told the Nikkei Asian Review just after the show.
Pelangi is at the driving edge of rising demand for so-called modest fashion, which aims to conceal rather than reveal the body and may or may not include the hijab, a headscarf worn by some Muslim women that covers the head and shoulders.
Such clothing can be worn for religious or cultural reasons, or by women who just prefer to dress conservatively. Indeed, the term "modest fashion" has replaced "Muslim fashion" as its appeal has spread beyond the Islamic world.
"Modest styling is the concept, but anyone can actually wear it, be it those who wear hijab or not," says Pelangi. "That's why we call it modest fashion instead of Muslim fashion." Judging by the crowd at her show, this appears to be true. Only a handful wore headscarves; the rest were the kind of fashionistas that might attend any runway show.
The growing trend can be traced back to September 2016, when Anniesa Hasibuan became the first Indonesian to show in New York and presented her entire collection on models wearing the hijab. (Hasibuan has since been jailed for fraud in relation to a Hajj pilgrimage business she ran with her husband.) It was a milestone for modest fashion and since then Indonesian designers have made regular appearances at NYFW.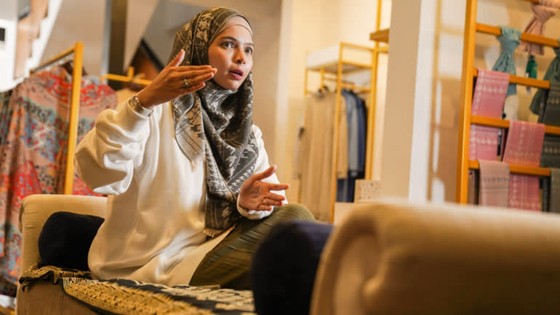 Indonesian designer Vivi Zubedi in her boutique in Kemang, an upscale neighborhood in South Jakarta (Photo by Dimas Ardian)

It stands to reason that Indonesia, the world's most populous Muslim-majority country, would be a leader in this booming multibillion-dollar industry. But the country has struggled to achieve its ambition of becoming the world's Muslim fashion capital, faced with challenges ranging from poor production capacity and lack of professionalism, to vigorous competition from megabrands such as Nike, H&M Hennes & Mauritz and others that are jumping into the market for modest wear.
The State of the Global Islamic Economy Report 2018/19, produced by Thomson Reuters, a mass media company, and DinarStandard, a research and advisory outfit, highlights "significant growth potential" in the sector, with Muslim spending on modest fashion forecast to grow 5% annually to $361 billion by 2023 from $270 billion in 2017.
"Modest fashion has become de rigueur. [It] is moving into the mainstream, from luxury brands to high street stores, albeit with much more room to grow," the report says. "Online retailing and influencers have helped drive the popularity of modest fashion, alongside models in hijab gracing the covers of Cosmopolitan magazine ... and Vogue."
Room to grow
Demographics also suggest the market for conservative clothing will continue to expand. According to Pew Research Center, a fact tank based in Washington, Muslims are the world's fastest-growing major religious group. By 2050 it estimates there will be 2.76 billion Muslims worldwide, making up 29.7% of the world's population, up from 1.6 billion, or 23.2% of world population, in 2010.
But Indonesia has struggled to penetrate the global modest-fashion market. Heavy focus on its large domestic market and a lack of attention to exports have caused the country to perform poorly in the Thomson Reuters/DinarStandard report's modest-fashion ranking, which tallies countries mostly based on exports, relative to their size, to the Organization of Islamic Cooperation, a grouping of 57 mostly Muslim-majority countries across four continents.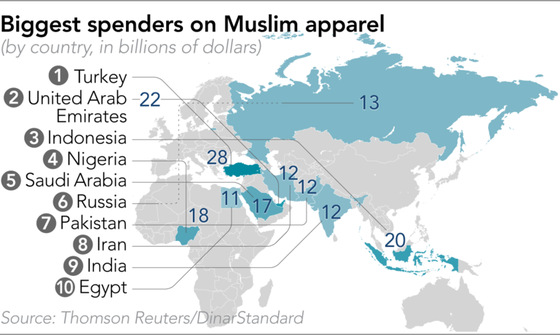 It finally cracked the top ten this year, jumping into second place behind the United Arab Emirates, and trumping Singapore, Malaysia and Turkey, respectively. A stronger presence at international events, including NYFW, London Fashion Week and Modest Fashion Week, a biannual international outing launched in Istanbul in 2016, likely contributed to its rising profile.
The report does not give data on exports for the individual countries; nor does Jakarta break out export volumes for modest fashion alone. However, its overall textile shipments are forecast to rise 13% this year to $15 billion, and anecdotal evidence suggests demand for Indonesian modest-fashion products is improving.
Industry insiders say demand from the U.S., Middle East and Europe is improving. And the consumers are not exclusively Muslims, but include conservative Jewish and Christian women, artists, musicians and others.
Not everyone is upbeat. Franka Soeria, a modest-fashion consultant, says Indonesian designers may be enjoying the limelight at international fashion events, but they are often unable to follow through when it comes to fulfilling orders from the shows.
Soeria says products are sometimes rejected because they fall short on quality, with sloppy workmanship such as poorly finished seams and stitches among the most common complaints. "[Indonesian designers] do so much branding. The only problem is we don't focus too much on selling. After shows, we need to follow up," says Soeria, who is also a co-founder of Modest Fashion Week, which was hosted by Jakarta in July last year.
Soeria blames a lack of production capacity for Indonesian designers' inability to scale up output to meet growing overseas demand. Established textile manufacturers are more interested in mass production than producing smaller runs of designer clothes, she explains, while highly skilled seamstresses are scarce.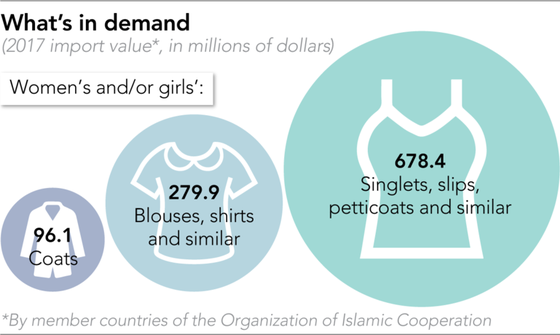 This is in stark contrast to Turkey, a major competitor for the modest-fashion consumer and consistently placing in the top five in the Thomson Reuters/DinarStandard rankings. The industry there is "very much professional," says Soeria, who divides her time between Istanbul and Jakarta. In Turkey, she says, designers have well-thought-out production plans even before they decide to participate in a fashion show. They are also supported by garment makers with more modern equipment who are willing to produce on a small scale.
Soeria also warns that the global modest-fashion sector is "very much a jungle." While the broader fashion industry is well-developed and professionally managed, modest fashion is new, with many inexperienced players, as well as those trying to take advantage of them. She cites e-commerce companies that fail to pay designers as well as unethical event organizers who ask clients to pay upfront for a show, then fail to deliver.
She adds that Indonesian designers' typical focus on ethnic wear and bold colors, although appreciated by the domestic market, often doesn't resonate with customers in more conservative Middle Eastern countries, or with those in Muslim-minority Western nations who don't want to stand out from the crowd more than they do already, due to wearing the hijab. Indonesian designers would do much better if they diversified away from these typical designs, she says.
Designer Vivi Zubedi is well aware of the problems. After appearing three times at NYFW since 2017, her dresses and separates are now well-received by customers in the U.S., the Middle East and Africa. The shows have also given her a boost at home, resulting in contracts to supply high-end department stores in Jakarta, including a local outlet of upscale French department store Galeries Lafayette.
But Zubedi admits she is not ready for large-scale production, despite tempting offers such as a partnership with Macy's or a U.S. franchise. For now, she says, she is focused on consolidating her business and improving quality.
"We've been shipping to retailers, but we want to expand by exporting to wholesalers. The challenge is, however, quality control," Zubedi says in her boutique in Kemang, an upscale South Jakarta neighborhood. "There are actually many investors who want [my brand] to become bigger in several countries, like big, well-known global brands. But that is not currently our focus."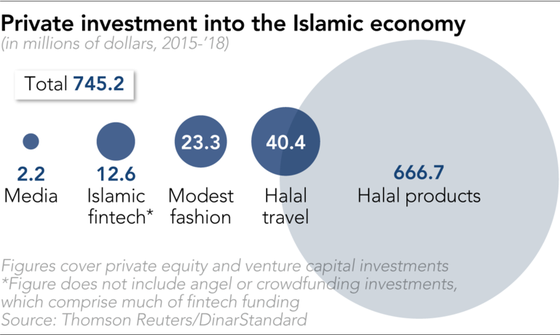 Competition from global brands poses another challenge for Indonesian designers. Italy's Dolce & Gabbana, Swedish fast-fashion retailer H&M, U.S. sportswear company Nike, and Japanese casualwear chain Uniqlo, as well as U.S. department store Macy's and British retailer Marks & Spencer, are just some of the names that have showcased clothing aimed at women who want to cover up.
Major investors are also getting involved: Goldman Sachs bought a minority stake in Turkish modest-fashion e-retailer Modanisa in January.
Some Muslim designers bristle at the involvement of these big players. Shazia Ijaz, founder of U.S.-based modest-streetwear e-tailer Seek Refuge, suggests their interest borders on hypocrisy.
"There's a long history of designers who make racist remarks about Muslims, about black people, Asians, Hispanics, saying, 'I don't want them wearing my things,'" she told the Nikkei in a March interview, "then taking their money and targeting them in fashion shows just because they want to increase the bottom line."
Soeria talks of the grasping attitude she says is often displayed by mainstream fashion players. "Modest fashion is a big, billion dollar-industry and everybody wants a piece of the pie, including those not even in the industry; they don't even know what modest fashion is."
Global brands asked to comment mostly failed to respond: Nike noted only that its Pro Hijab sportswear sells well in Indonesia, and that it will continue to cater to the "needs and wants" of athletes; H&M declined to comment.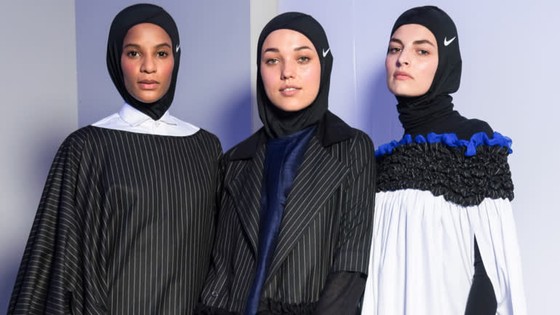 Models pose in Nike's exercise-friendly Pro Hijab, released globally in 2017. © Getty Images
The presence of megabrands "does present a challenge for small and medium-sized enterprises," the Thomson Reuters/DinarStandard report says. But, it argues, "Mainstream fashion's adoption of modest fashion is helping to counter negative perceptions toward Islam."
Despite her criticism, Soeria agrees. Involvement of the big brands helps people to understand that many women "cover themselves not because they are being oppressed, but because they choose to," she says. "If women can choose to wear revealing clothes, they can also choose to be covered."
Emerging Indonesian designer Ria Miranda thinks global brands "close the distance between Islam and fashion," and make Muslim fashion "no longer a foreign thing" among the international public. "Their presence is driving me and other modest-fashion industry players to keep innovating, and [to] create original and quality design that can compete with them."
Capital of fashion
The Indonesian government has promised to help the modest-fashion industry, but has been slow to get involved. A plan to transform the country into the world's Muslim fashion capital by 2020 has been pushed back to 2025.
Apart from sponsoring modest-fashion shows in Jakarta, it was only this year that officials, through the Creative Economy Agency, or Bekraf, launched a program to fund the local industry through partnerships with Shariah-compliant banks, which follow the principles of Islamic law.
Yuke Sri Rahayu, director for banking access at Bekraf, says select designers will be trained in business management, which will include helping them to draft financial reports so as to make their businesses more bankable.
"We've learned that they have really good designs, but they haven't managed their businesses well," Rahayu says. "Most have never approached [banks for loans]. So when they have projects ... they rely on family members to borrow money, thus the difficulties to run large projects."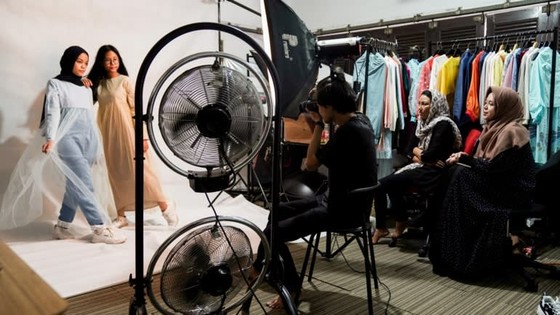 Teenage models pose in Muslim wear in a Jakarta studio. (Photo by Dimas Ardian)
The government is hoping that increased modest-fashion shipments will lift its textile exports and help narrow its trade deficit. The U.S.-China trade war has hurt overall exports while imports have become more costly due to a weaker rupiah. Since last year, it has been striving to increase shipments in particular to the Organization of Islamic Cooperation countries, as demand from China, its main trading partner, slows.
Industry Minister Airlangga Hartarto, speaking at the Muslim Fashion Festival in Jakarta in May, said that making Indonesia a global modest-fashion capital would also help to create jobs; the industry employs 1.1 million people, or nearly a third of total workers in the textile and garment industry.
Meanwhile, Soeria, the fashion consultant, last year co-founded the Council of Modest Fashion to address challenges faced by designers. It will help creatives in countries spanning Europe, Africa, Asia and the Middle East to connect with clients overseas. "Our goal is to make modest fashion sustainable," she says. "We don't want it to be just a trend that fades out."