The Indian economy is not in nearly as good a shape as the voters were told before the vote. With growth slowing, public borrowing high and reforms overdue, Modi's government has no time to lose.
Beginning with restoring public faith in the economic data and ending with long-term growth-boosting structural changes (notably in banking), the prime minister has much to do.
The bad news came within hours of the election result when the Central Statistics Office released quarterly GDP numbers that revealed the slowest growth in five years, at 5.8% -- down from 8% a year earlier. Then came previously withheld employment numbers showing the highest unemployment rate in decades -- over 6%.
Soon afterward, came tax numbers for the financial year to March 2019 revealing earlier reported revenues were overstated.
Finally, Arvind Subramanian, the finance ministry's chief economic adviser till last year, put the nail in the coffin of business confidence with a Harvard University working paper which said India had been over-reporting GDP growth dramatically. Instead of the officially-reported average of 7% for the 2011-17 he said, it should have been 4.5% with a one percentage point margin of error on either side.
Modi has quickly appointed cabinet committees on jobs and growth/investment, while the newly-appointed finance minister, Nirmala Sitharaman, has been meeting experts ahead of the presentation of the year's Budget in early July (updating interim numbers presented in February).
Reviving growth while restoring fiscal discipline is never easy, especially in an international environment marked by trade disputes and rising protectionism. The government needs to push ahead with long-delayed economic reforms, while moderating growth expectations for this year and perhaps the next.
Also, Modi must change his approach. In his first term he focused on specific projects, such as building highways, and distribution programs, including rolling out subsidized cooking gas and free health insurance to more people. This time round, he should focus on regulatory reforms, with an emphasis on boosting growth, particularly given the overegging of the GDP numbers.
The Confederation of Indian Industry, the industry lobby group, has complained of a "trust deficit" between government and business. The lack of business confidence is reflected in poor investment; the Centre for Monitoring Indian Economy reports that corporate investment in new and postponed projects is at a 14-year low.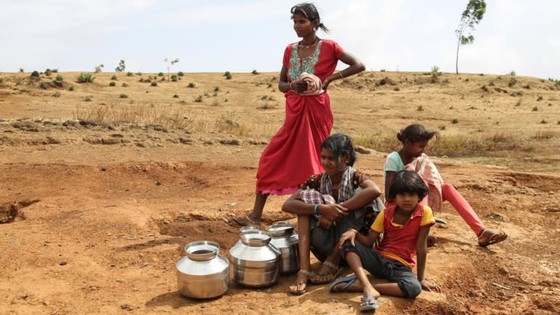 The fear of a subnormal northeast monsoon and water scarcity is not helping rural demand. © Reuters
Private consumption, which had been buoyant till the second half of 2018, has slumped. Car sales fell by an astonishing 20.6% in May, compared to a year earlier. The fear of a subnormal northeast monsoon (which runs from June to September) and water scarcity in many states, along with poor price realization by farmers, is not helping rural demand.
The government must focus on the financial sector. It should reduce future borrowing to avoid eating into the credit available for private entrepreneurs and consumers. Together with the Reserve Bank of India, the central bank, it should improve liquidity and bring down interest rates that remain high in real terms (i.e. after discounting for inflation).
The RBI has dropped its overnight rate in stages from 6.5% to 5.75%, but little of this has helped the market because of liquidity shortages.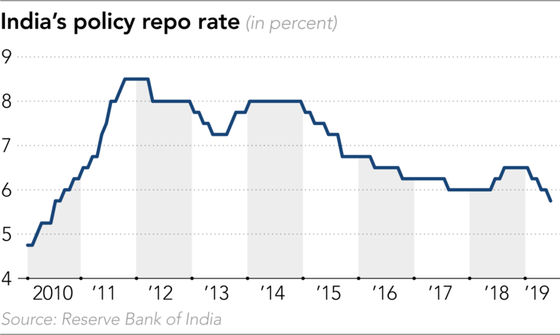 Much private expenditure -- like the purchase of cars and household goods -- is financed by loans, so interest rates impact consumers' monthly repayments. Also, most companies lack operating margins that would justify borrowing at current interest rates. Furthermore, lower interests would help bring down the over-valued rupee and assist exports after five flat years.
The government is rightly determined to sell the loss-making state-controlled Air India, even though an offer last year found no takers. It must now find similar resolve to shut two government-owned telecom companies -- Bharat Sanchar Nigam and Mahanagar Telecom Nigam -- with an even worse financial record despite the 200,000 jobs at stake. The two legacy companies cannot compete profitably with private rivals.
Nor can Modi turn a blind eye to a financial sector weighed down by bad debts, with trouble spreading from banks to shadow banks. The largest of these shadow banks has gone bankrupt, a second was recently briefly in default and a third saw its auditors walk out rather than certify its accounts. The flow of fresh funds to shadow banks (which account for about a fifth of the lending market), has mostly dried up.
The government has over five years pumped capital worth $30 billion into the government-owned banks (which account for 70% of banking, and are the largest part of the problem) and merged some weak banks with stronger competitors.
Privatization would be an excellent option in theory but is a political hot potato. Sales could only be at bargain prices that would invite public outcry. Instead, the government should strengthen managements and internal risk assessment processes at state-owned lenders. So far little has been done.
Meanwhile, a new bankruptcy code, enacted by Modi in 2016, has put unprecedented pressure on business chiefs to pay their debts. The results are startling, with the sale of assets to foreign investors and the financial implosion of leading entrepreneurs, starting with the Ruia brothers, who face the court-enforced sale of Essar Steel to ArcelorMittal under insolvency rules. Anil Ambani, the head of Reliance Communications, narrowly escaped jail after his billionaire brother Mukesh paid off a key debt. Meanwhile, former liquor baron Vijay Mallya heads a list of business heads facing criminal proceedings for alleged financial offenses. He denies wrong doing.
The new code's impact is necessarily brutal. For too long many top Indian entrepreneurs avoided paying their debts. In the long run it will help make the economy more transparent and efficient. But in the short term the impact has hit the balance sheets of companies and banks, and limited fresh investment.
Further out, the agenda is just as important and -- difficult. Many economists have rightly asked for action on two long-delayed reforms, of the country's rigid labor laws and of the complicated rules for acquiring land for industry and infrastructure. In both fields the need for reforms has been clear. The headache, as always, has been managing the powerful vested interests blocking change.
Modi's electoral triumph was dramatic. So are his economic challenges.