When she was a teenager in the 1970s, Zhou Xiaoguang peddled trinkets city to city and slept on trains, a formative chapter in her creation of the world's largest costume jeweler, Neoglory Holdings Group Co.
Leveraging her empire of baubles, China's "fashion-accessory queen" added hotels, offices and malls. The magnate took a seat in China's national parliament, accepted business accolades, including Ernst & Young's "Entrepreneur of the Year," and erected the tallest skyscraper in Yiwu, a trading city south of Shanghai.
Now, China's economic slowdown is making Ms. Zhou known for something else: her billions of dollars in debt. A bankruptcy court in April said Neoglory "is unable to repay a due debt, has insufficient assets for repaying all its debts and is apparently insolvent."
Ms. Zhou's turn of fortune is part of a reckoning that is ensnaring many of the star entrepreneurs who produced China's great economic boom.
For a generation, China's explosive growth rewarded bold expansion, and many borrowed heavily to seize the moment. Shanghai wealth-tracking service Hurun Report said China minted four billionaires a week in 2018 and is No. 1 globally in self-made fortunes.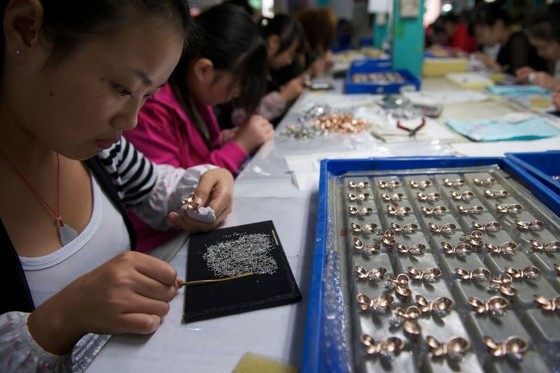 Workers produce costume jewelry at Neoglory's factory in Yiwu. PHOTO: ALAMY
Full-steam growth also masked companies' strategic mistakes—in addition to excessive debt, many overexpanded into unfamiliar and crowded business sectors. These problems are becoming increasingly apparent as
China's economy slows to its weakest growth in more than 25 years
. The companies' struggles foretell a further drag on the expansion.
In the past decade, China's overall debt quadrupled, to around three times the value of last year's national output. Corporate debt accounts for two-thirds of the total, or more than $26 trillion last year, according to the Bank for International Settlements.
Government-run companies owe most of that money, but signs of distress are appearing most dramatically at private companies, which have less pull with creditors and less support under President Xi Jinping, who sees the state sector as the economy's mainstay.
China's onetime soybean king and formerly the richest man in prosperous Shandong province, Shao Zhongyi, said his Chenxi Group was felled last year by lenders who suddenly called in loans in what he termed a "high-speed bleed." Early in that year, industrial machine maker Zhejiang Jindun Group's founder leapt to his death, leading the company to reveal in a stock exchange notice that it owed over 9.9 billion yuan, or about $1.4 billion, some to loan sharks.
This year, banker Dong Wenbiao's jet-maintenance to elder-care conglomerate, China Minsheng Investment Group, has unsettled local markets after missing debt payments several times by days or weeks, before making good on its obligations.
Many Chinese entrepreneurs tend to "borrow as much as possible, even if the core business doesn't need it," said Joseph P.H. Fan, a professor of finance and accounting at Chinese University of Hong Kong. China's top-down system showers successful entrepreneurs with new business opportunities and the political backing to get them done, he said. It is a winning strategy to capitalize on the boom times—but doesn't offer much shelter in a slowdown.
Professor Fan got to know Ms. Zhou while researching private wealth in China. Neoglory, he said, is a textbook example of China's "misallocation of financial resources."
Neoglory fueled its evolution into a conglomerate through expansive borrowings, which ballooned to $6.8 billion, even as financial filings show cash was tight and profits were weak. Behind the scenes, the company was taking on new risks to borrow, including ever-shorter payback schedules. The troubles burst into view in mid-September when Neoglory defaulted on a bond payment. Several more defaults followed.
Ms. Zhou has ranked among China's richest people. "Though winter may be tough to live through, it's a good time to do introspection," the 56-year-old recently told a business group. She declined interview requests.
Neoglory said it embarked on a rollout of retail outlets when online selling was more promising, and it overbuilt real estate in undesirable locations. "We were too optimistic about the economic trends and didn't prepare to evolve," said Neoglory spokesman Xu Jun, adding that the company's situation isn't unique.
In 2017, Beijing began trying to dial back what it termed excessive lending by the financial sector, including banks and informal firms that manage money online, a deleveraging that caused cash shortages at many private companies.
The money crunch exposed Neoglory's fundamental problems: The once niche jewelry sector had become overrun with competition, shrinking profit margins. Developers across China were unloading malls and apartments like the ones Ms. Zhou built.
China's broader economy had been losing momentum. The expansion maxed out at 10.6% in 2010, and economists are increasingly pessimistic the government's bottom-line target of 6% growth will be achieved this year. The slowdown leaves major unfinished business in China, such as lifting incomes in the country's poor rural areas.
Sorely needed are companies that might lead China to a new stage of development that is less dependent on construction and exports. Big debts make it hard for business owners to invest in reinventing the economy, and are sapping confidence along with the country's trade disputes with the U.S.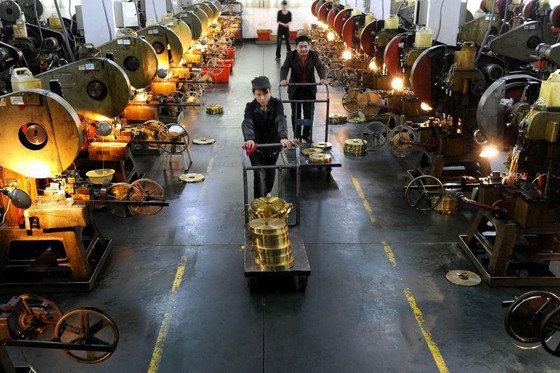 Workers process metal at Neoglory's jewelry factory in Yiwu. PHOTO: LIANG ZHEN/VCG/GETTY IMAGES
The corporate bond market is a small part of the credit puzzle in China, but it is relatively transparent compared with bank lending, and sheds light on the accelerated pace of borrowing and defaults by private companies.
From negligible amounts a decade ago, Chinese companies last year had $1.72 trillion in debt securities outstanding, the second-highest amount after American companies, which carried $5.81 trillion, according to the Organization for Economic Cooperation and Development.
To help private businesses, Beijing is cutting business taxes and red tape, and recently reversed earlier credit controls by leaning on banks to lend more. It is also signaling some of yesterday's stars aren't worth saving. Construction billionaire Wang Wenliang developed political connections in Beijing and in the U.S. through donations to politicians. After his Dandong Port Group Co., which operates a port near North Korea, fell into what the company called a crisis and defaulted on bonds in late 2017, its hometown government issued statements declining to come to the rescue.
More than 18,000 companies successfully filed bankruptcy petitions with Chinese courts last year, nearly twice as many as the previous year and until now a rare step in China. Also hitting a record last year was the number of defaults on bonds, with 125, Neoglory's included, five times the number in 2015. Defaults are running at an even faster pace so far in 2019.
The face value of Neoglory's outstanding bonds, at $2.5 billion, is a huge chunk of the $3.2 billion pre-default estimate of the Zhou family's net worth. In January, China's Supreme Court ordered Ms. Zhou's assets frozen. Creditors are also chasing Ms. Zhou's husband, while their son has resigned from senior executive positions at group companies, public filings show.
For about six years, Neoglory's inaugural bond traded uneventfully, close to its 8.1% promised interest payment. Last year, that bond suddenly fell so out of favor that buyers stood to earn above 125%. Neoglory defaulted on the issue.
The private company reports only selective financial information, such as through a listed subsidiary. Property unit Neoglory Prosperity Inc. reported a 215 million yuan loss for 2018 and said it was owed over 4.2 billion yuan from the parent company.
Ms. Zhou has attributed her entrepreneurialism to a hardscrabble upbringing near Yiwu when the area was rural: Lacking shoes as a teen, she made a pair; to save money on trips to sell embroidery, she took night trains.
She set up a sales booth in 1985 in Yiwu, and Neoglory began production in 1995. Inside a decade, Ms. Zhou was the richest woman in Zhejiang province and a symbol of the country's breathtaking industrial rise.
She and other exporters made Yiwu a global giant in low-price merchandise. The trading city is centered on a vast complex that snakes along 4 miles where wholesalers sell goods, from socks to Christmas ornaments.
Neoglory necklaces and earrings sell around the world, including on Amazon.com Inc. and at J.C. Penney Co. in the U.S., often fitted with crystals from Austria's Swarovski AG. Ms. Zhou built a massive factory compound that included apartments for her family and quarters for employees, at one point numbering 7,000.
"The whole industry in Yiwu was brought up by her," said Wang Wei, a former Neoglory employee who owns one of the 4,500 costume jewelry shops in the city's wholesale center.
Ms. Zhou was appointed to China's national legislature, where her contributions included a string of proposals designed to help private companies. When the government began to open the bond market to private companies, Neoglory was one of the first issuers in 2011.
The new source of cash provided Ms. Zhou an opening to pursue ambitions grander than costume jewelry. Most proceeds of the 1.6 billion yuan inaugural issue in 2011 went toward constructing Yiwu World Trade Centre, a skyline-defining, four-tower, mall-hotel complex rising 52 floors.
Neoglory added villa and apartment projects, financed by bonds. The company doubled its real-estate holdings to 30% of assets, displaying architectural models of commercial and residential projects in its corporate museum, near decorative pins Ms. Zhou's team designed for President Xi and China's first lady.
A popular Chinese TV drama loosely based on Ms. Zhou's life—"Feather Flies to the Sky"—drew its title from the idea that even chickens can fly when the wind is strong enough, in this case, a booming economy.
Ms. Zhou's bulk-up on property was late. By the time she dedicated Neoglory's 362-room Shangri-La Hotel with a sketch of peacocks in June 2017, her first bond was nearing its expiration.
The Chinese economy was slowing, and Neoglory was facing higher costs at home and lower-cost rivals abroad. Neoglory had boosted capacity, expanding in China to produce 900 million pieces monthly, while less-expensive competitors were cropping up in Vietnam and elsewhere.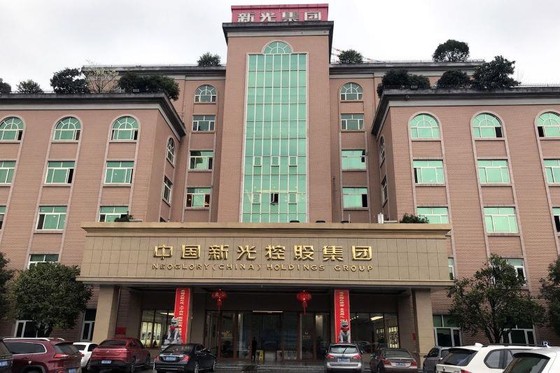 Neoglory's headquarters compound in Yiwu includes Ms. Zhou's residence and a costume jewelry factory. Photos in the lobby, below, show Ms. Zhou meeting Chinese leaders, including President Xi Jinping. PHOTO: JAMES T. AREDDY/THE WALL STREET JOURNAL

Almost all of Neoglory's dozen or so bond issues—one billion yuan to two billion yuan a pop a few times annually—piled on more risk. It was borrowing on shorter payback timetables, with its initial seven-year bond followed by five-year issues, then three-year debt and, most recently, five in a row due for payback in 365 days.
Its top reason for borrowing was to service older debt, according to its bond prospectuses.
To repay bondholders, Neoglory is trying to shed property and stakes in financial firms, according to regulatory statements. Lights on the Shangri-La spell "For Rent."
A notice recently pasted to the entranceway at Neoglory headquarters calls for "courage to survive the tough times." Employees shuffling out of its workshops said staffing and wages are down. Total employment is now about 500, the company said.
At Neoglory Place mall, which occupies two full blocks near Ms. Zhou's birthplace, abandoned shops far outnumber going concerns. Over sunflower seeds and tea outside 29-year-old Shan Qingqing's fashion boutique on a recent afternoon, many of the remaining merchants were sealing plans for a rent strike. Ms. Shan hadn't rung up a sale since the previous week. "They made a mistake investing here," she said.