This is not an unreal model. This is a practical and workable system which is being applied in Rotterdam in the Netherlands, to develop urban cities as well as prevent flood waters from inundating residential areas there.

Solution for flood prevention in Ho Chi Minh City
At a seminar organized by Vietnam Fatherland Front Committee in Ho Chi Minh City recently, Nguyen Thien Nhan, Secretary of City Party Committee, said that City authorities must answer this question in the next meeting, "in which year will Ho Chi Minh City completely resolve the problem of flooding and how to achieve it?"
Ho Chi Minh City will be most impacted by increase in water levels which is rising 0.5-1cm per year on an average.
This requirement urged the City authorities to study models in developed countries and create a suitable approach to resolve the current issues as well as support sustainable growth.
Practically speaking, water flooding is a hot issue in many regions, and many countries in the world, in both developed and developing countries. For a long time, technical solutions, such as dyke systems and water storage pools, have been considered the best methods to prevent stagnant water collecting in towns and cities.
However, recently, amidst the inevitable climate change scenario, flooding in urban cities is becoming more of a complicated issue. The previous technical solutions have been revealing their weaknesses. In some cases, these solutions just transfer the flood waters from one place to another, and cause more heavy flooding in future. One example of these methods is raising the road levels to prevent flooding.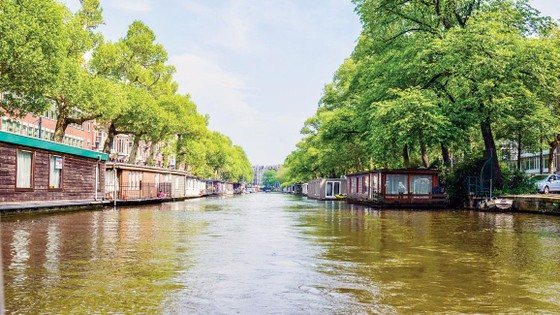 A corner of Rotterdam City in the Netherlands, where many high-tech solutions have been applied. Photo: Minh Phong
Ho Chi Minh City authorities recognize that applying only the above technical solutions will not be effective. There should be many simultaneous solutions applied if the City wants to resolve completely the water flooding problem. This method will suit the global climate changes affecting Ho Chi Minh City and will also impact the increasing level of rising flood waters each year.

Furthermore, uncontrolled exploitation of ground water for a long period of time has caused the land to subside in many parts of the City, at about 1cm per year. Experts forecast that by 2045, the difference between sea level and Ho Chi Minh City ground level will be 45-60cm.
Currently, 63% of the City is sitting naturally above the sea level at 1.5m. But recently, water tides have risen 1.62-168m, causing more flooding in inner City areas.
The above information was confirmed by Nguyen Thien Nhan in his talk with City authorities, to urge them to put more effort and determination in resolving this issue.
Ho Chi Minh City leaders have visited Japan, Netherlands and Germany to study and learn from experiences in these developed countries and create a suitable solution for Ho Chi Minh City.
Project for Water City
Nguyen Thien Nhan and City leaders have visited Rotterdam in the Netherlands to study the water flood prevention systems there.
Rotterdam is quite similar to Ho Chi Minh City in terms of ground and water level. The City is located along the Mass river, below sea level and is easily impacted by river and sea tides. Rotterdam is also strongly influenced by storms. Hence, they constructed an effective multi-functional dyke system to protect the City.
However, amidst the rapid climate changes taking place worldwide, Rotterdam has been also applying softer and more flexible methods. Accordingly, the City authorities have approved a master plan called Rotterdam Water City. The master plan includes three smaller projects, River City, Canal City and Waterway City.
The core function of River City is to turn the water face of the City to high-quality living areas and economic-social zone for people there. Accordingly, Rotterdam constructed 20,000 tarp houses, jetty houses, houseboats and fortresses along the riverbank to form a healthy living environment for its residents. This is also a solution to create a better life for low-income people.
By utilizing the area along riverbanks for houses, many economic and social issues of Rotterdam have been resolved.
The dyke system in Rotterdam and the Netherlands is known as one of the most modern and efficient systems in the world. However, due to the effects of climate change, Rotterdam has been proactively adding other "soft" solutions, along with "hard" technical methods, to protect the City for the future.
This solution is to focus on the treatment of water upstream and increase water storage capability downstream for the City. The river bed has been expanded and many new water storage pools have been constructed. So, the water level has consequently reduced and the flooding problem has dropped significantly.
This plan of "more room for the river" helped create more green and healthy parks as well as entertainment zones for residents. In the rainy season, the water squares which are along the riverbank become water reservoirs. While in the dry season, they are parks and public spaces for entertainment. This solution also imbibes a distinctive culture, making the riverbank area more attractive.
Multi-functional dyke system
Rotterdam has also developed the multi-functional terraced dyke system to meet different purposes of the City, but the core function is still flood water prevention.
The space which has been created by big terraces can be used for constructing infrastructure projects, tourist spots, ports, entertainment parks, or car parks. The presence of these projects makes people unrecognizing that they are dykes to prevent water flooding.
The construction of dyke systems based on traditional technology is very costly. However, the smart approach of the multi-functional dyke system can bring the City more economic benefits at reasonable cost. Most dyke systems here are funded by PPP method.
Mr. Nguyen Thien Nhan said that Ho Chi Minh City is learning from the model and is studying the construction of a multi-functional dyke system; the method to prevent water flooding, ground subsidence, tides same as in Rotterdam. The way that Rotterdam uses public spaces for storing water in the rainy season and making them entertainment areas in the dry season is a very valuable study.
In the meeting with Roald Lappers, Netherland's Vice Minister of Infrastructure and Water Management, Nguyen Thien Nhan said that leaders of Ho Chi Minh City tried to learn as much as possible from the experience of Netherlands in constructing and operating the dyke system. This was a very practical experience for Ho Chi Minh City authorities in finding solutions to prevent damage caused by flood waters and thereby create a more sustainable growth for the City.
By utilizing the land along riverbanks for housing, many economic and social issues of Rotterdam have been resolved. The way that Rotterdam uses public spaces for storing water in the rainy season and making them entertainment areas in the dry season is a very valuable study.