Index leaders

According to the announcement made by HOSE, BID, BVH (Bao Viet Holding) will be added to VN30 to replace CII (Ho Chi Minh City Infrastructure Investment) and DHG (Hau Giang Pharmaceutical), the two stocks which have been excluded. This decision will be effective from August 2019 and at that time BID and BVH will contribute 0.9% to VN30.

The addition of BID increases the number of banks to nine, and this sector's contribution in VN30 to 31.6%. The nine banks are BID, CTG (Vietinbank), EIB (Eximbank), HDB (HDBank), MBB (Military Bank), STB (Saigon Commercial Bank), TCB (Techcombank), VCB (Vietcombank), and VPB (VPbank).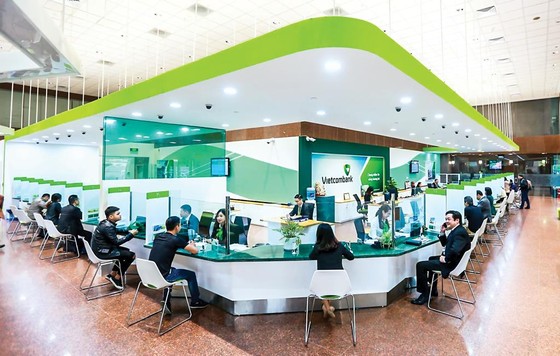 VCB is currently the highest market price stock among the banking stocks.
The weight of banking stocks in VN30 is two times the weight of Vingroup stocks (15%) which also include VIC (Vingroup), VHM (Vinhomes), and VRE (Vincom Retail).

Currently, there are 17 banking stocks which are listed on HOSE, HNX and UPCOM. Excluding the above 9 stocks, the other 8 banking stocks include ACB (Asia Commercial Bank), SHB (Saigon Hanoi Bank), TPB (TienPhong Bank), LPB (Lien Viet Post Bank), KLB (Kien Long Bank), BAB (Bac A Bank), VIB (Vietnam International Bank), and NVB (National Citizen Bank). These banks also have huge capital, hence, they have significant impact on the movement of the current market.

For example, on 17 July, a 1.3% drop of VCB (equivalent to VND 1,000) was the main reason for the decrease of 0.69 points of VN-Index. On 16 July, VN-Index increased 1.07 points thanks to the surge of 2.9% at VCB.

Mixed movement

In the first seven months, 11 out of 17 banking stocks have decreased, in which TCB dropped 20.5%, and LPB fell 15%. On the other hand, EIB surged 30%. This was strange as this bank is still facing many difficulties in operations, especially problems related to top management. Currently, EIB is trading at VND 18,000/share, the highest price over the last 10 years.

The other notable banking stock is VCB, which is trading at highest market price in the sector, above VND 80,000/share. The rumor that Miss Vietnam 2006, Mai Phuong Thuy, has bought VCB at around VND 60,000/share is said to take profit to around VND 80,000 share and has made VCB stock become hot.

At the time that VCB reached VND 70,000/share, Mai Phuong Thuy posted on her Facebook account that "only investors who bought VCB at VND 40,000-50,000/share understand my feelings now. Investors may take profit at VND 60,000/share, but I will hold it until VND 80,000/share". This comment looked like an investment recommendation to encourage other investors to buy at VND 70,000/share in the hope that stock price will move to VND 80,000/share.

Besides VCB, the investment portfolio of Mai Phuong Thuy also includes VJC (VietJet Air) and HPG (Hoa Phat Group).

Positive expectation

Most experts believe that the credit growth will slow down in 2019 as the State Bank only targets to grow 14% in credit growth this year. However, the first half result of most banks has been impressive.

According to the financial statements, VCB profit before tax reached VND 11,280bn, a surge of 40.7% YoY, and completed 55% of its full year target. This is the first time VCB posted profits above VND 10,000bn.

STB profit before tax reached VND 1,500bn, also completing 55% of the 2019 planned target. Notably, the NPL (non-performing loan) ratio fell from 2.11% to 1.96% and STB has collected successfully VND 11,000 in the first six months.

The other banks, which also completed more than 50% of the 2019 target, include ACB, VIB, KLB, TPB.

The banking sector is expected to grow 20-33% this year. Some experts even forecast this sector will surge to 40% in 2019. According to BVSC, though banking stocks in Vietnam sometimes are being traded quietly, they are still more attractive than banking stocks of regional markets.

If investors compare 5-year average ROE and P/B of banking stocks of Vietnam to that of regional markets, Vietnam banking sector is less attractive. However, if investors take a look at ROE of 2019 and compare it to the current market price, the banking stocks still seem undervalued.

With the expectation that banking sector will perform well in 2019, the banking stocks are forecast to continue being the leaders in the stock market in coming times.
VN30 is the reference index of VFMVN30 ETF which has net asset value of VND 6,800bn. In the next review, VFMVN30 ETF is expected to buy VND61.7bn of BID and 64.3bn of BVH and sell VND 42.1bn of CII and VND 38.7bn of DHG.