The signing ceremony took place at 21 Pham Ngoc Thach, Ward 6, District 3, Ho Chi Minh City, Vietnam.
The event marked a new milestone for AMPA Education to officially become a strategic partner of the Australian Music Examinations Board (AMEB), striving together toward a common goal of Serving the Community Through the Arts.
Established in 1918, the Australian Music Examinations Board (AMEB) is not only Australia's leading provider of examination services for music, speech and drama, but also have gained professional recognition in Australia and in many markets around the world. It is the only examining body with formal links to the major Australian Universities and Ministries of Education: The Universities of Melbourne, Adelaide and Western Australia, The Ministry for Education and Training, New South Wales, The Ministry for Education, Training and Employment, Queensland and The Ministry for Education and Skills, Tasmania.
Since its establishment over 100 years ago, the AMEB has done over 7,000,000 music and theory exams for more than 100,000 candidates every year. AMEB qualifications provide an international benchmark and measure of excellence that is recognized across Australia and internationally. Australian education is always one of the first choices of Vietnamese students because of its world-class quality with a standardized system of prestigious diplomas and certificates. An AMEB qualification will be an excellent advantage in the profiles of Vietnamese students, helping them achieve entrance to reputable Australian higher education institutions.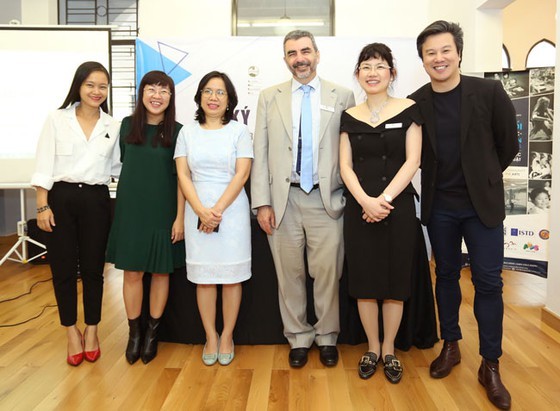 From left to right: Ms. Pham Doan Ha My - CEO of AMPA Education; Nguyen Thi Ngoc Dung - Music Director of the Asian Performing Arts & Music Education (AMPA Education); Ms. Tran Thi Thu Thuy - Representative of Vietnam Association of Friendship Organizations PACCOM; Mr. Bernard Depasquale - CEO of Australian Music Examinations Board (AMEB); Dr. Tanya Thanh Nguyen - AMEB Ambassador & AMEB International Examiner and Mr. Bui Vu Thanh - AMPA Education Founder.
Candidates who have taken AMEB courses and exams agree that AMEB opened new doors to the world of music, stimulated their creativity and pushed them beyond their limits. Moreover, through
MyAMEB
– an online platform connecting the community for the love of music (
https://myameb.ameb.edu.au/
), millions of students and teachers around the world can have the opportunity
to exchange advanced educational methods and to learn from experts in different fields.
ENHANCING THE STANDARD OF MUSIC EDUCATION IN VIETNAM THROUGH NON-PROFIT PROJECTS
At the signing ceremony, the Australian Music Examinations Board (AMEB) and Asia Music & Performing Arts Education (AMPA Education) committed to a sustainable partnership through non-profit arts education projects, bringing AMEB's programs and certifications closer to the community, by providing music students and teachers with access to Creative Education with international standards. The main fields of collaboration are:
- AMEB and AMPA Education collaboratively develop quality arts training programs and organize AMEB examinations in Vietnam. AMPA Education is regarded as an official AMEB Examination Center, providing a comprehensive slate of AMEB international music training - examinations and certifications in Vietnam.
- The cooperation between AMPA Education and AMEB not only provides Vietnamese students with a new option for international music certification, but also creates an opportunity for them to improve their skills and upgrade their expertise to a global standard through the workshops and masterclasses conducted by international experts from AMEB. Subsequently, the partnership will play a pivotal role toward one of AMPA Education's important goals of improving the capacity of music and arts education in Vietnam.
By using AMEB syllabuses or taking part in exams, students and teachers also join hands with AMPA Education to raise funds for the Dream Space project - one of AMPA Education's key fundraising initiatives that aims at bringing Creative Education to every child in Vietnam.
Mr. Bernard Depasquale – CEO of Australian Music Examinations Board (AMEB) - said: "We feel that there is much alignment between the goals of AMEB and AMPA Education. We are both dedicated to improving music education and improving opportunities for music students; also, the Australian connection between AMEB – the Australian Music Examinations Board and Mr. Thanh Bui – an Australian citizen - and an advanced graduate of AMEB. AMEB provides support in different ways for different students. For students wishing to go on to professional careers as musicians AMEB offers professional level qualifications. Also, the high level AMEB qualifications have significant advantages for students wishing to go on to study at tertiary institutions in Australia. Some conservatoriums offer automatic entry if you have an AMEB Diploma – no need for an audition for example. For students wishing to do music more as a pleasurable activity AMEB offers support as well. We have a range of syllabuses with more repertoire choices and less technical work and repertoire exams with just exam repertoire. AMEB really offers something for every student and teacher. AMEB is delighted to have the opportunity to work with AMPA. In Australia AMEB is part of the fabric of music education. In Vietnam AMEB is very new, but we would like to become part of the fabric of music education in Vietnam as well. We think that by working with established organizations in Vietnam like AMPA, with similar organizational goals to AMEB, we will be able to achieve much more than we could on our own."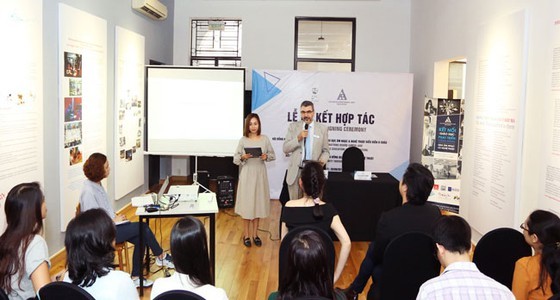 AMEB and AMPA Education are committed to working towards sustainable partnerships through non-profit projects in the arts education.
"AMPA Education would like to provide a wide selection of international music syllabi to the community of Vietnamese teachers and students. Thus, we are honored to become an official representative of a prestigious organization like AMEB and to have AMEB as an excellent addition to our current system of programs," said Ms. Pham Doan Ha My - Executive Director of AMPA Education. "We believe that AMEB plays a significant part in the big picture of Creative Education development in Vietnam. The cooperation between AMPA Education and AMEB will give the Vietnamese music community more opportunities to develop their potential and to be recognized by an international arts qualification. Through this partnership, we believe that the positive impacts of music and arts education will be spread further and wider in Vietnam. We appreciate AMEB's participation in AMPA Education's community projects and trust that the commitment and support from international partners like AMEB will greatly facilitate the realization of music and arts projects for Vietnamese children."
Why international music students and teachers choose AMEB?
Currently the Australian Music Examinations Board (AMEB) organizes more than 95% of the music examinations in Australia, connecting with more than 20,000 teachers from more than 5,000 schools. The reputation and prestige of AMEB also goes beyond the border of Australia because:
· AMEB qualifications are the standard of measurement across Australia and recognised nationally and internationally by such prestigious institutions as the Cambridge University Overseas Examination Board.
· The AMEB is the only external examination body with formal links to major Australian Universities and Ministries of Education. Moreover, candidates might earn bonus points for taking an AMEB exam toward admission to Australian universities.
· AMEB enrolment fees are competitively priced. AMEB examiners are trained specialist professionals in their fields.
· AMEB syllabi are developed by leading Australian musicians and educators using pedagogical approaches suited to Australian and international students. Each syllabus contains a broad range of repertoire and musical styles from classical to popular to contemporary, which allow students flexibility when selecting their programs.
Famous artists who had taken AMEB examinations include Mr. Thanh Bui, Glenn Riddle - Federal Examiner for AMEB, Lecturer in Keyboard at University of Melbourne; Shuan Hern Lee - the youngest performer to win the International Piano Competition in Keri Keri, New Zealand; and Michael Kieran Harvey: Multi-award-winning Australian concert pianist and composer.